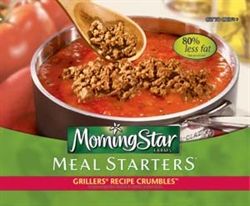 If you need to stock up on Morningstar Farms veggie products, there's currently plenty of coupons available at
http://www.thecouponclippers.com/
. If you haven't used their service before, note that there is a $3.00 minimum order amount.
It's great to go in with a friend if you want only a few coupons. I try to check their site at least once a month, or more often if a coupon comes out in the paper that I could use 10,000 of--like Morningstar Farms products that my husband loves. Their service is especially helpful for anything I either use a lot of no matter the price or can stock up on with a sale.
These coupons are $0.75 off one product and expire 8-22-10. I'll be on the look out for good sales at Target or Kroger in the upcoming weeks!